Info
Kettle corn dessert tea from Coy o'Teas – naturally flavored, premium loose black tea leaf.  A buttery tasty treat!
"Freshly popped kettle corn with buttery toasty notes of caramel."
–The Manufacturer
Details
Overview
Our Kettle Corn tea is like a trip to the carnival!  With airy popped rice, chunks of apple, and pretty petals of chamomile and safflower, it's as lovely as it is tasty.  Buttery caramel flavors round it out.  This all-natural treat is sure to please.
Luxury Ingredients
Black tea, popped rice, apple pieces, white chamomile and safflower petals, organic natural flavors.
Origins
Sri Lanka / Kenya / India / Japan / Turkey / Egypt / China
Caffeine Level
Medium
Antioxidant Level
High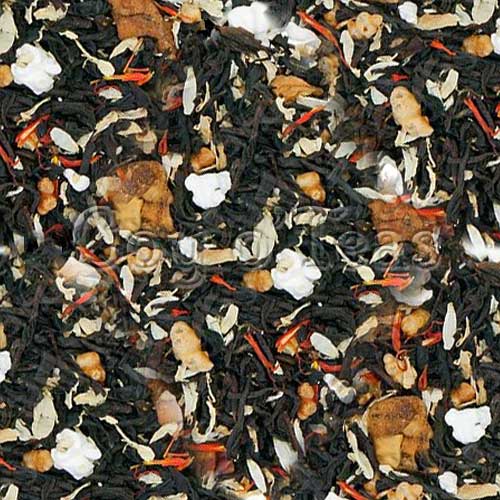 Uses
Serving Suggestion
This tea goes exceptionally well with slices of fresh apple, as well as rice cakes (with or without a topping like butter, peanut butter, or hummus).
Physical Uses
There may be health benefits to drinking Kettle Corn tea.  First, the black tea base has antioxidants, which may help lower the risk of heart disease and stroke.  Second the popped rice is a good source of carbohydrates, which provide energy for the body.  Third, apple is rich in fiber, antioxidants and vitamin C.  That may promote heart health and help to prevent chronic diseases.  Next, chamomile is sometimes used to help with insomnia, anxiety, and digestive issues.  And last, safflower petals are a good source of antioxidants and may even help to lower cholesterol levels.
Therefore, this tea maybe be good to help prevent disease and perhaps ease nervousness.
Metaphysical Uses
This tea is one of knowledge and prosperity.  One will note that many cultures, particularly in Asia, consider both tea and rice to be symbols of abundance and prosperity.  Furthermore, many traditions hold the apple to be a symbol of knowledge and wisdom.  Remember the Garden of Eden?  The Tree of Knowledge's fruit is often depicted as an apple.  Therefore, you can use this tea to stimulate your own knowledge and prosperity.  Sip it slowly, and picture your own wisdom and prosperity increasing.  When the tea is finished, release the image–and the energy–to the Universe.  The work is done!