Info
Cherry Romance tea from Coy o'Teas – naturally flavored, premium loose black tea leaf.  Rich cherry flavor sprinkled with rose petals!
"Deep cherry flavor tending sweet. Add a dash of sugar which combined with the natural flavorings enhances the taste."
–The Manufacturer
Details
Overview
Experience the love of Cherry Romance tea.  Our special blend of sweetest cherries and pink rose petals whispers the promise of a kiss.  Whether in a quiet evening at home, or a special night with someone, your moment is sure to blossom with its touch.  Try it today and fall in love all over again with the taste of tea.
Luxury Ingredients
Black tea, blackberry leaves, rose petals, cherry fruit pieces and stems, cranberry pieces, safflower petals, organic natural flavors.
Origins
Sri Lanka / Kenya / India / Canada / France / Egypt / China
Caffeine Level
Medium
Antioxidant Level
High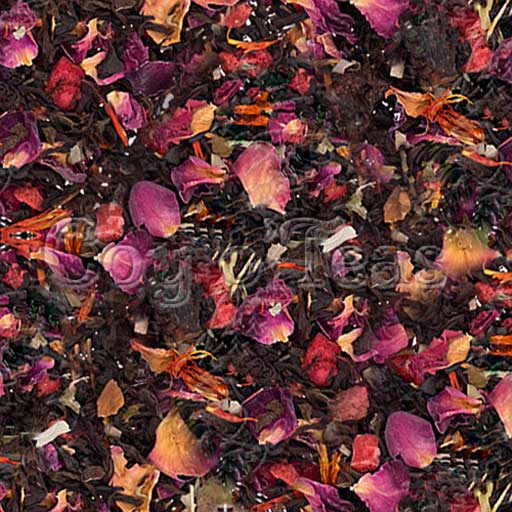 Uses
Serving Suggestion
A beautiful idea for Cherry Romance is serve it in a beautiful, clear glass teapot, or perhaps in a heart-shaped teacup.  Have a candle nearby to create a warm and intimate atmosphere.
Snacks that pair well with this tea include delicate pastries, eclairs, or perhaps chocolate-covered strawberries.  That adds a touch of indulgence!
Physical Uses
Cherry is an astringent fruit that contains vitamin C. For that reason, it is good for a sore throat.  It is also useful for helping to prevent colds and flus.  So a cup of our cherry tea might be good to prevent sickness… or even if not, you can still enjoy the "cure." 😉
Aromatherapy Uses
In aromatherapy, both rose and cherry are associated with a light happiness.  They also have aphrodisiac qualities.  Use these to brighten your mood if you're feeling a bit down . . . or to put yourself in the mood for some light adult playtime. 😉
Metaphysical Uses
Traditional practitioners of many paths associate both cherry and rose with passion and joy.  To use our tea for this purpose, make a cup and sip it slowly.  If there is someone else involved, have them drink a cup, too!  While you do, envision your desired intent.  Surround yourself and the picture in your mind with bright, white Light.  Close your eyes and whisper your wish/prayer out loud.  Meditate on the image–that is, keep your mind focused on your desire.  Keep sipping slowly.  When the tea is gone, release your desire  to the Universe.  Go enjoy the night.