Info
Caramel Cherry Cheesecake tea
Caramel Cherry Cheesecake tea from Coy o'Teas – naturally flavored, premium loose black tea leaf. Creamy sweet dessert deliciousness!
"Sweet creamy caramel flavor notes that are nicely accentuated with hints of cherry."
–The Manufacturer
Details
Overview
Satisfy your cravings with our Caramel Cherry Cheesecake tea!  Lose yourself in the heavenly blend of rich caramel and cream, infused with the perfect kiss of cherry.  Made with all-natural ingredients including quality black tea and cranberry pieces, this tea is a guilt-free way to enjoy the indulgence of cheesecake.  Treat yourself to a cup of Caramel Cherry Cheesecake bliss!
Luxury Ingredients
Black tea, cranberry pieces, calendula and safflower and sunflower petals, organic natural flavors.
Origins
Sri Lanka / Kenya / India / Canada / China / Egypt / Poland
Caffeine Level
Medium
Antioxidant Level
High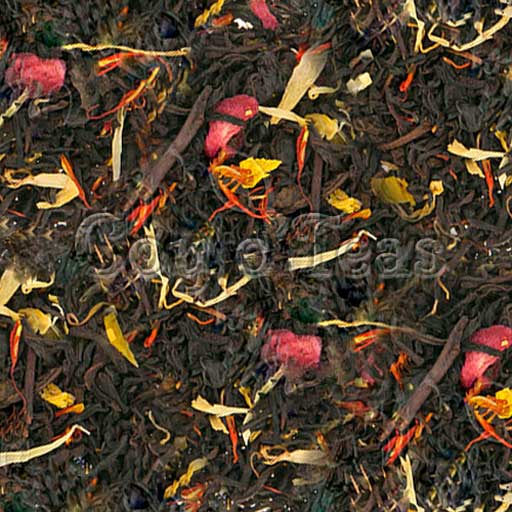 Uses
Serving Suggestion
This tea is delicious served hot alongside shortbread cookies.  You could also have graham crackers, which are a nod to the typical graham crust of a cheesecake.
Aromatherapy Uses
Some aromatherapists say that inhaling caramel's scent brings happiness. It is a combination of butter + sugar that has brightened many a dark day!  Our caramel tea blend also has a touch of vanilla, which works through aromatherapy to ease tension and bring relaxation.  Also, cherries are also said to bring happiness and joy.  So this tea brings a double punch!
Make a big cup of this tea and breathe in the aroma while you sip. Take your time, let it relax you and bring happiness.
Metaphysical Uses
Many astrologers equate the planet Venus with sugar and sweets, thus aligning this tea with any sort of love or passion work.  Many cultures also associate cherries with passion, love, and sweet kindness.  Therefore, whether you are preparing for some happy adult-times, seeking love, or perhaps just a physical companion, sip this tea while getting ready!