Info
Buttered Rum tea from Coy o'Teas – naturally flavored, premium loose black tea leaf. Tasty rum mellowed by sweet cream butter.
"The full astringent taste of rum mellowed with a creamy smoothness. The perfect drink on a wintry day."
–The Manufacturer
Details
Overview
Set sail for flavor with Buttered Rum Tea.  Made with all-natural ingredients, this tea includes classics like apple, hawthorn, grapefruit peel, blackberry leaves and a secret touch of maple syrup.  It then delivers a delicious kiss of creamy, buttery, and rum-inspired flavor with every sip. Simply perfect for those who love a unique tea experience!  This brew is sure to be a treasure in any tea trekker's trove.
Luxury Ingredients
Black tea, apple, hawthorn fruit, grapefruit peel, blackberry leaves, calendula + sunflower petals, maple syrup, organic natural flavors.
Origins
Sri Lanka / Kenya / India / Egypt / Poland
Caffeine Level
Medium
Antioxidant Level
High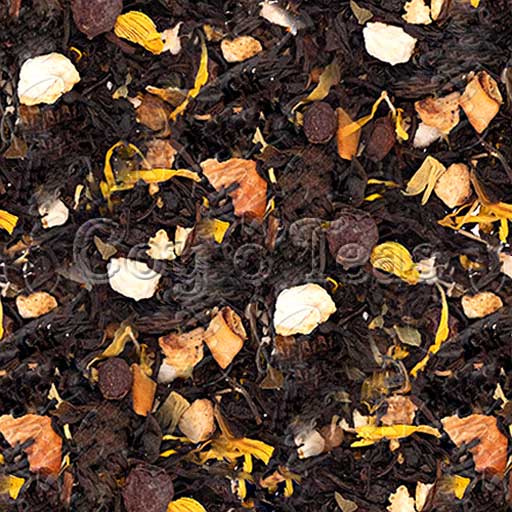 Uses
Serving Suggestion
Steep Buttered Rum tea for 3-5 minutes in hot water, add a tablespoon of maple syrup and/or splash of rum (grownups only please!), and serve it warm with a slice of apple on the side.
You can also serve it while sailing the high seas and plundering your enemies' treasure.  Arr Matey!
Physical Uses
Calendula and sunflower are both useful for skin-care and acne. Add in a touch of rum and you have a good astringent wash. Use some strong-brewed Butter Rum on a cotton ball or beauty pad.  Stroke the tea across greasy parts of your face, such as forehead, nose, and cheeks (especially paying attention to spots of acne). Apply daily.
Note: if your skin gets too dry, discontinue use or supplement with skin cream.
Metaphysical Uses
Rum is widely used in Santeria and Voodoun beliefs as an offering for their deities.  While this tea has natural rum smell and flavor, it has no actual rum alcohol in it.  Therefore, it might be risky to offer to entities who are expecting booze.
That said, nearly any fragrant offering is welcome to most spirits and/or deities, if it is given in good faith.  This tea has a sweet smell, owing to the flower petals, rum flavor, and maple syrup.  So if you give this in tribute, or as an offering in exchange for asking a favor, it may go over well . . . assuming the recipient(s) are not hoping for rum itself!  Simply give your offering and ask aloud for your desires.
Important: If you are calling forth any entity, please always observe safe practices first, such as casting a protective circle.  Consult metaphysical books or sites if you do not know what that means!  Your wellbeing depends on it.