Info
Blueberry Pie dessert tea from Coy o'Teas – naturally flavored, premium loose green tea leaf.  Tangy berry flavor in rolled, full-flavor tea.
"Sweet and tangy. Wild blueberry notes accentuated with full body green gunpowder."
–The Manufacturer
Details:
Overview
Savor the taste of our Blueberry Pie Tea.  Made with a refreshing green tea base, blended with juicy blueberries and sweet apple pieces, this tea makes the perfect, guilt-free dessert.  There are no calories, no  sugar, no artificial anything . . . just sweet, natural, fruity deliciousness.  So whether you want a sweet post-meal treat, or a comforting midday snack, Blueberry Pie Tea is sure to satisfy your cravings.  And with green tea, there's just a little caffeine.  So get Blueberry Pie, and treat yourself to a classic dessert, without any strings attached.
Luxury Ingredients
Green tea, apple pieces, blueberries, calendula and cornflower and sunflower petals, organic natural flavors.
Origins
Sri Lanka / China / Albania / Poland / Egypt / Turkey
Caffeine Level
Low
Antioxidant Level
High
Note
"Gunpowder" tea is  a style in which the leaf has been rolled into a tight pellet. It typically makes for cup full of wide-spectrum flavor, as most of the leaf is preserved in the process.  The name comes from the similar appearance of gunpowder pellets in the Western hemisphere a couple centuries ago.
Also, if you are comparing this tea, "Blueberry Pie," with our other called "Bingo Blueberry" . . .  the difference is that this has a green tea base and the other is a fruit-and-herb blend with no actual tea. 🙂  This one tends to have a "greener" taste from the tea, along with a little caffeine.  Also, the other one tends to have a wider spectrum of "fruity berry" flavor than this one does.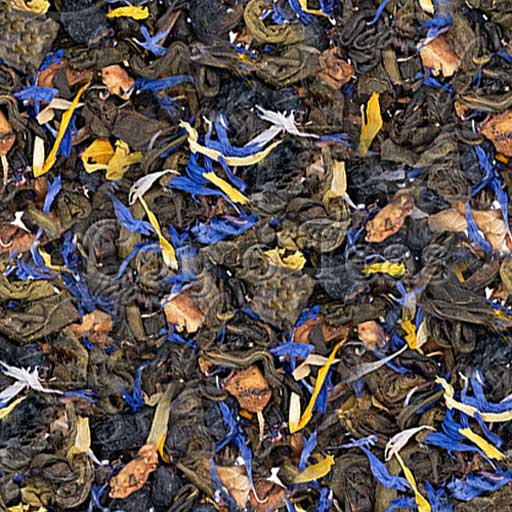 Uses
Serving Suggestion
Blueberry Pie tea is exceptionally tasty paired with a scone or slice of creamy cheesecake.  If you're not into desserts, you can add a slice of lemon or sprinkle of cinnamon to play with the taste profile of the tea.  A dollop of whipped cream and/or a couple real blueberries can also make this a playful treat.
Another idea is to brew the tea as a "tea latte" using steamed milk rather than water.  Again, adding a bit of cinnamon or lemon can change up the flavor profile in playful ways.
Lastly, this tea does excellently as an iced tea.  In those hot summer months, cover the tea leaves with cold water and leave it overnight in the refrigerator.  We bet you'll be pleased!
Physical Uses
Blueberries are good for helping diabetics manage their blood sugar levels, as well as improving insulin sensitivity.  In addition, they reduce high blood pressure and lower cholesterol.  (However, you must consume them regularly to achieve any benefit.)  Furthermore, green tea has a number of health benefits which scientists have studied.  They have concluded that green tea may help lower stress levels, help the body combat disease, and assist with losing weight.
Metaphysical Uses
Practitioners of many paths consider blueberry to be an all-around protector.  To take advantage of this, simply brew the tea and sip it slowly.  As you do so, envisioning a bubble of white Light around you.   After you finish your tea, maintain this bubble of Light about you after you.  The blueberries in your belly will help sustain it. To conclude, many practitioners claim that blueberries will protect you from harm on all levels: physical, emotional, spiritual/magickal, and psychic.  Some even say that throwing blueberries across your enemy's path will block them from being successful against you!
(Therefore, try tossing some of this tea–if nothing else, it will confuse your enemies!)