Info
Blue Lady tea from Coy o'Teas. Premium gourmet, loose black tea leaf. Tasty tropical flavors, chunks of fruit, and brightly-colored petals.
"A tasty tropical melange combining passion fruit, grapefruit, orange and grenadine flavor. Simply exquisite as an iced tea."
–The Manufacturer
Details
Overview
Raise your pinky and treat yourself to refinement with our Blue Lady Tea.  This is a sophisticated, tropical blend of orange, grenadine, passionfruit, and grapefruit flavors infused into premium black tea.  It has real pieces of papaya and pineapple, and lovely flower petals.  It is sure to satisfy even the pickiest tastes.  Perfect for any time of day, hot or iced.  Indulge in the flavor of Blue Lady Tea and elevate your tea time to new heights.
Luxury Ingredients
Black tea, papaya and pineapple pieces, calendula and cornflower and sunflower petals, organic natural flavors.
Origins
Sri Lanka / Kenya / India / China / Egypt / Albania / Poland
Caffeine Level
Medium
Antioxidant Level
High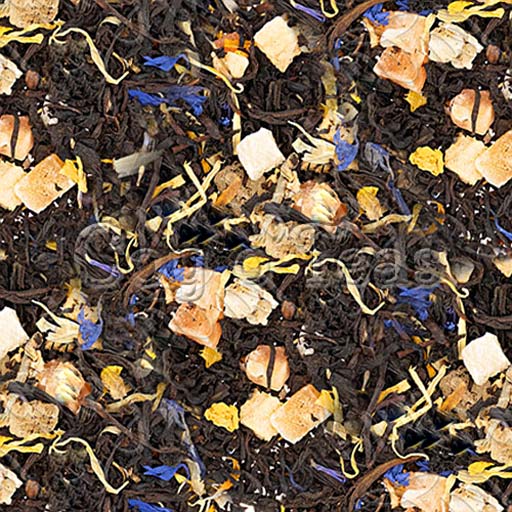 Uses
Serving Suggestion
Sip Blue Lady tea hot, or pour cold water over it and let it steep overnight in the refrigerator for a stunning iced tea!  We recommend adding a sweetener, to complement the citrus.  However, many customers write that they enjoy it without.  This tea is good any time, but especially after a heavy meal, to help you digest.
Physical Uses
With papaya and pineapple, this tea may be helpful in digestion.  Ingredients in each, respectively, called papain and bromelain help to break down proteins, which as a result helps us to digest meats more easily.
Aromatherapy Uses
Citrus ingredients are used in aromatherapy to lift the mood. Widely used to combat depression and bring energy to a tired spirit and body.  To use, breathe in the scent of this tea as you close your eyes.  While doing so, envision a healthy, happy mind and body.
Metaphysical Uses
Folklore traditionally associates papaya with the element of Water.  Therefore, one can use it in any ritual or practice which focuses on emotions, including love.
By comparison, pineapple is said to be associated with the element of Fire.  It can therefore be used in any ritual or working to bring about energy, power, passion, or action.
Lastly, passion fruit has associations with peace and–naturally–passionate love.  Different lores teach that having it in the house can quell arguments, and/or attract a lover.  One might suggest that quelling arguments is always a good way to KEEP a lover!
Therefore, the elements of this tea combine to make a powerful potion which you can use to put energy toward the idea of desire in several forms.  This could mean a lover, an object you crave, or passion for an art or craft you practice.  Whether you need a physical companion, something special, or perhaps you need to "fire up" your passion toward something in your life, this tea would be a good choice.  To make that happen, brew this tea and surround yourself mentally in white Light.  Sip the brewed tea slowly, and envision your desire while you do so.  Always keep yourself surrounded by the Light.  When the tea is done, release the energy–and the idea–to the Universe.
(As a side-note: please never impose your will on another.  It is bad news and terrible Karma to envision someone specific in such a working.  The right way is to hold in your mind a faceless concept of WHAT you want, not WHO you think you want.  Do this, and the Universe will provide what you actually need–even if you're currently unaware of the truth.)