Info
Bingo Blueberry Fruit & Herb Tea
Blueberry tea from Coy o'Teas. Premium gourmet loose herb and fruit tea.  Caffeine-free.  Bright berry taste.
"A full flavored tea with superb and well-defined blueberry highlights. Excellent as an iced tea."
–The Manufacturer
Details
Overview
Are you looking for a delicious and healthy alternative to your caffeinated cup of tea?   Look no further than Bingo Blueberry!  Our all-natural blend of fruits and herbs, including blueberries, apples, elderberries, bilberries, and currants, creates a unique and flavorful experience.  It is free of caffeine and artificial anything, but packed with natural taste.  Bingo Blueberry is the perfect choice for a refreshing and healthy drink.  Whether you're looking for a morning pick-me-up or a relaxing evening treat, Bingo Blueberry will delight your taste buds.  Try it today and experience the difference!
Luxury Ingredients
Hibiscus petals, apple, elderberries, currants, European blueberries (a.k.a. bilberries), cornflower petals, American blueberries, organic natural flavors.
Origins
Egypt / Turkey / Greece / Albania
Caffeine Level
None
Antioxidant Level
Low
Note
If you are comparing this tea, "Bingo Blueberry," with our other called "Blueberry Pie" . . . the difference is that this is a fruit-and-herb blend, while the other has a green tea base.  This one has no actual tea, and thus no caffeine.  This also tends to have a  wider-spectrum of "fruity berry" flavor than the "Blueberry Pie" does.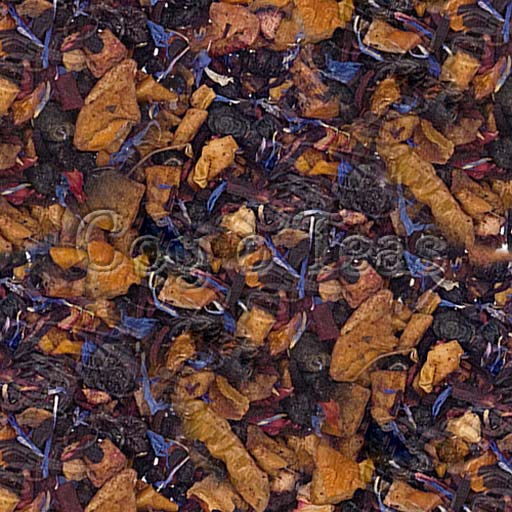 Uses
Serving Suggestion
You can enjoy Blueberry tea hot or iced.  We recommend adding something sweet, such as honey, artificial sweetener, or sugar, however many people do enjoy it plain.  In addition, you can add a spritz of lemon juice to bring out the tartness in the blueberries.
Furthermore, a garnish can brighten up iced blueberry tea–try a few fresh blueberries, lemon wedge, or sprig of mint. 🙂
Physical Uses
Blueberries are good for helping diabetics manage their blood sugar levels, as well as improving insulin sensitivity.  They also reduce high blood pressure and lower cholesterol. (Of course, this assumes you consume them regularly.)
In addition, traditional medicine has used hibiscus flower for centuries.  It is rich in antioxidants, which can help protect the body from damage caused by free radicals.  It also contains high levels of Vitamin C and minerals, which are important for maintaining a healthy immune system.  Furthermore, some preliminary studies indicate that hibiscus may lower blood pressure and cholesterol, improve digestion, and even aid in weight loss.
Finally, elderberry is high in antioxidants, vitamin C, and other vitamins and minerals.  It is known to support the immune system, which helps fight off colds and flu.  Some observational studies show that it may have anti-inflammatory properties as well, which can help relieve symptoms of allergies and asthma.  These indicate that elderberry can reduce the duration and severity of colds and flu.  Additionally, it may have anti-cancer properties, help lower cholesterol, improve vision, and assist heart health.
Metaphysical Uses
The general consensus is that blueberries are an all-around protector.  To use, brew blueberry tea and sip it slowly.  As you do, envision a bubble of white Light around you. Keep this Light about you after you finish your tea.  The blueberries in your belly will help sustain the Light and your protection.
Traditional practitioners say that blueberries will protect you from harm on all levels: physical, emotional, spiritual/magickal, and psychic. Folklore claims that throwing blueberries across your enemy's path will block them from being successful against you! (So perhaps toss a bit of this tea instead. If nothing else, it will confuse them!)
As far as hibiscus goes, this lovely flower is a sign of love, passion, and fertility.  For example, in ancient Egyptian culture, hibiscus was the flower of the goddess Isis.  As such, it was often found in rituals promoting love or fertility.  Hawaiian culture gives it similar associations, and usually includes it in traditional leis.  Also, the Chinese consider hibiscus to have cooling properties, and thus take it internally to reduce any heat-related illness . . . or even anger.
By comparison, elderberry has a similar amount of lore.  Traditional practitioners have used elderberry for just as long.  Like blueberry, it is typically associated with protection, along with purity and healing.  Elderberry's protective properties often place it in rituals for protection and purification.  Unlike blueberry, however, in European folklore, the elder tree from which it comes is considered to be protected by the "elder mother" spirit.  Legend states that if one asks permission to pick the berries, the spirit grants permission–but if one does not ask, then a curse is levied upon the picker.
In conclusion, our Bingo Blueberry tea, which combines these protective and passionate herbs, would be good to drink before or during rituals in which you are calling for shielding and fertility or love.  Whether you are breaking off a bad relationship, or calling for a new one . . . whether you are calling for protection of yourself or your mate . . . the ritual would be thus:  First, envision yourself surrounded by a bubble of white Light.  Second, pour some tea for yourself, and a second cup for your personal Protectors or Powers (whatever you wish to call them).  Third, sip your own tea slowly, envisioning your purpose the entire time.   Always keep the Light around you, in your mind.  Lastly, when the tea is finished, release the energies back to the Universe, and pour the tea you gave to the Powers solemnly upon the ground.  Your ritual is done.