Info
Apple tea from Coy o'Teas – naturally flavored, premium loose black tea leaf.  Healthy and delicious blend of apple, leaves and flower petals!
"Lively fruity flavor highlighting notes of fresh orchard apples. Garnish with a cinnamon stick and a slice of lemon for special occasions."
–The Manufacturer
Details
Overview
Our all-natural Apple Tea is a delicious mix of premium black tea, real apple pieces, and tasty blackberry + lime leaves.  This unique blend is sure to provide a refreshing experience.
This is made with only the finest, all-natural ingredients.  It is free from artificial flavors and preservatives.  The black tea base provides full-bodied flavor, while the apple pieces and leaves add a touch of tanginess, making it a perfect choice for any time of the day.
Not only is this tea delicious, it also has many health benefits. The black tea provides antioxidants, while the apple, blackberry, and lime leaves contain vitamin C, which can help boost your immune system.
Get your hands on our premium Apple Tea and taste the difference for yourself!
Luxury Ingredients
Black tea, apple pieces, blackberry and lime leaves, safflower petals, organic natural flavors.
Origins
Sri Lanka / Kenya / India / Turkey / France / Thailand / China
Caffeine Level
Medium
Antioxidant Level
High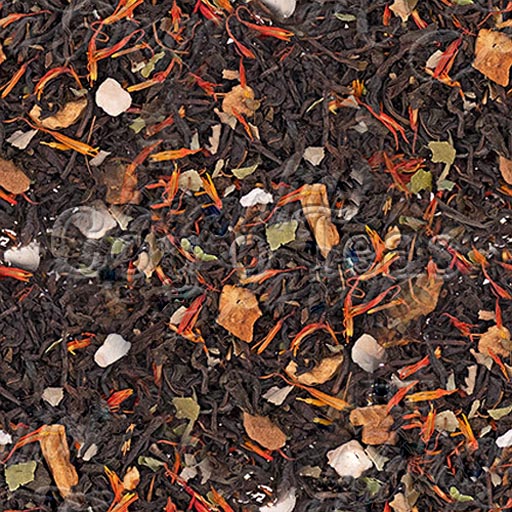 Uses
Serving Suggestion
Apple tea is best enjoyed warm, on a cool autumn evening . . . although it's great any time of year, really.  You can serve it alongside some slices of cheddar, and/or whole-wheat crackers.  For a touch more sweetness, we recommend adding a teaspoon of honey or maple syrup to the cup.  A fresh sprinkle of cinnamon, ginger, or perhaps a slice of lemon, can add variety.
You can also enjoy Apple tea iced.  To do so, pour cold water over the tea leaves and let them steep overnight in the refrigerator.  The result can be exceptionally refreshing in the summer's heat!
Physical Uses
Apples are full of natural components said to help the lungs (incl. asthma), gut, heart, and liver. They may also help to prevent osteoporosis and dementia!
In addition, lime leaves are a good source of other nutrients such as flavonoids, flavones, and antioxidants which have been found to have many health benefits such as anti-inflammatory properties, improved digestion, and relief from respiratory issues. Lime leaves are also used in traditional medicine for its anti-inflammatory, anti-bacterial, and anti-fungal properties.
Metaphysical Uses
For many centuries, dating back to Celtic and Roman times (and probably before), the apple has been a symbol of fertility. Make two cups of this tea: one for you to sip, meditating/praying and whispering out loud your desires. Set the second out as an offering for the Higher Power(s) in your life. (Put the tea on your front porch or altar.)
This is believed to bring fertility, and more importantly, to prepare you spiritually and mentally for the job of parenthood. Do this at the time of the new moon, when new projects are favored.
(Important: once you have offered something, never drink or eat it! Dispose of it outside, once your private prayer/meditation is through.)