Info
Aphrodisia (formerly known as "Be Mine") tea from Coy o'Teas – naturally flavored, premium loose herb & fruit tea leaf.  Caffeine-free.
"Lovely! Delicious notes of dark chocolate with light edges of early season strawberry."
–The Manufacturer
Details
Overview
Indulge in a cup of romance with our Aphrodisia tea.  It's like a chocolate-dipped strawberry–but with blissful, liquid pleasure.
Touched with notes of apple, hibiscus, papaya, and rosehip, this strawberry-chocolate blend is the perfect way to show your love.  You can share it with someone or simply yourself–either way, you win the night.
Whether you're planning a special date occasion, or simply want to show your affection, "Aphrodisia" is the perfect choice. Made with all-natural ingredients, this tea is sure to impress and delight.
Make your next moment special with "Aphrodisia" tea, the ultimate romantic tea experience.  Order yours today and make your next moment unforgettable.
Luxury Ingredients
Apple, hibiscus, rosehip, strawberry, papaya, cocoa pieces, cornflower petals, and organic natural flavors.
Origins
Turkey / Egypt / China / India / Albania
Caffeine Level
None
Antioxidant Level
Low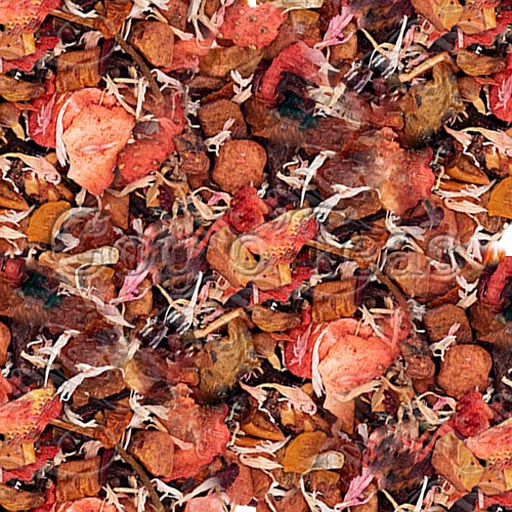 Uses
Serving Suggestions
Aphrodisia is best served warm, while curled up next to someone.  If you don't have that luxury, we recommend curling up with a good book or pillow.  This tea makes us feel happy, on various levels, so we like to sip it and relax.
If you're not counting calories, a slice of pound cake or angel food cake would go exceptionally well with a cup of this tea.
Physical Uses
Strawberry and chocolate are both mild aphrodisiacs, and both awaken pleasure chemicals in the brain.  There is also some evidence that strawberry may reduce inflammation in the body.   Chocolate, on the other hand, is good for many things: it can increase blood flow to the brain, reduce "bad" cholesterol, improve overall heart health, and accomplish other uses which are still being researched. In addition, both strawberries and chocolate are great to soften and smooth the complexion: drink this tea and apply the used "tea leaves" to the skin as a mask. Leave it on for 15 minutes, daily, and discard.
Aromatherapy Uses
Inhale strawberry to increase happiness, calming, emotional balance, and also reduce fatigue. Chocolate essential oil lessens anxiety and stress. These taken together (such as in this tea) make a grounding, calm-inducing combination.  Breathe in the steam as you sip it, to enjoy the relaxation (and arousal) it brings.
Metaphysical Uses
Strawberry is widely used in sex-spells, as is chocolate.
In fact, nearly all the ingredients in this tea have some tie to sensuality or fertility.  First, cocoa is well-known for its ability to boost mood and promote relaxation.  Even scientists acknowledge that it can increase pleasure and act as an aphrodisiac.  Second, many cultures associate strawberries with love and romance.  Their soft, rounded edges and bright red color suggest them readily as an aphrodisiac the world over.  Third, rose hips are renowned as symbols of with love and passion.  Nearly everyone also believes they have aphrodisiac properties.  Fourth, Hawaiians consider hibiscus to be a powerful symbol of fertility.  They incorporate hibiscus into their traditional leis, which are often given to people they love or respect.  And last, some cultures consider papaya to be an aphrodisiac, which bolsters libido and fertility.
Together these ingredients make a powerful, sexy brew!  You can use it to increase someone's libido,  or perhaps use it to enhance fertility.  To harness the tea's power, make a strong brew while whispering over it your wishes.  Stir it slowly, imaging that all your desires are pouring down through the spoon into the liquid.  Then divide the brewed tea into 3 cups: 1 for you, 1 for your lover, and 1 to give as tribute to the Higher Powers you worship/pray to.  (If you are Pagan, Aphrodite or Eros would be excellent selections.)  Tell the Higher Power that you are tributing this tea as thanks for a healthy love-life.  The two of you then sip your teas, and start the adult happy-times!